http://www.newworldencyclopedia.org/entry/Thomas_Plantagenet,_2nd_Earl_of_LancasterTHOMAS 2ND EARL OF LANCASTER
Thomas of Lancaster's main possessions (Maddicott).THOMAS OF LANCASTER'S MAIN POSSESSIONShttps://en.wikipedia.org/wiki/Thomas,_2nd_Earl_of_Lancaster
MURDER OF PIERS GAVESTON,INTIMATE FRIEND ANS[POSSIBLE] LOVER OF KING EDWARD II, UNDER THE DIRECT RESPONSIBILITYOF THE EARLS OF LANCASTER, WARWICK, HEREFORD AND ARUNDELMURDER OF PIERS GAVESTON,INTIMATE FRIEND ANS[POSSIBLE] LOVER OF KING EDWARD II, UNDER THE DIRECT RESPONSIBILITYOF THE EARLS OF LANCASTER, WARWICK, HEREFORD AND ARUNDELhttps://themortimersblog.wordpress.com/2017/03/22/a-royal-traitor-the-life-execution-of-thomas-of-lancaster-a-guest-post-by-stephen-spinks/
PONTEFRACT CASTLE, THOMAS OF LANCASTER'S FAVOURITECASTLE [INHERITED FROM HIS FATHER IN LAW, HENRY DE LACY, 3TH EARL OFLINCOLN, AT HIS DEATH IN 1311]IN HIS FAVOURITE CASTLE HIS SOCALLED "TRIAL" TOOKPLACE AND NEAR HIS FAVOURITE CASTLE, IRONICALLY, HE WAS EXECUTEDhttps://en.wikipedia.org/wiki/Pontefract_Castle#Historyhttps://en.wikipedia.org/wiki/Pontefract_Castle
Edward was twice jeered by Lancaster's garrison at Pontefract in 1317 & 1320 as he passed from north to south
EDWARD II WAS TWICE JEERED BY THOMAS OF LANCASTERAND HIS HOUSEHOLD, IN AT PONTEFRACT IN 1317 AND 1320, WHEN HEPASSED FROM NORTH TO SOUTH…..https://themortimersblog.wordpress.com/2017/03/22/a-royal-traitor-the-life-execution-of-thomas-of-lancaster-a-guest-post-by-stephen-spinks/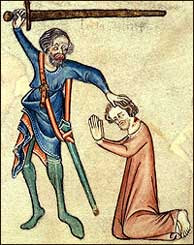 THE EXECUTION OF THOMAS, 2ND EARL OF LANCASTERhttp://www.luminarium.org/encyclopedia/thomasoflancaster.htm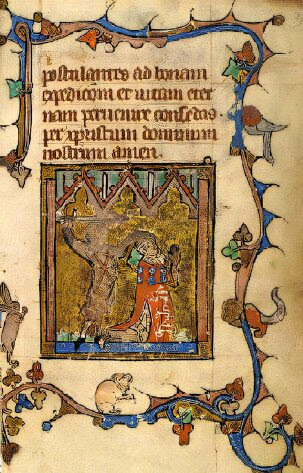 THE EXECUTION OF THOMAS, 2ND EARL OF LANCASTERhttp://www.englishmonarchs.co.uk/plantagenet_74.html
PLANTAGENETCOAT OF ARMS OF EDMUND CROUCHBACK [SON OFKING HENRY III, BROTHER OF KING EDWARD I ANDFATHER OF THOMAS, 2ND EARL OF LANCASTER], THOMAS,EARL OF LANCASTER AND HIS SUCCESSORShttp://www.newworldencyclopedia.org/entry/Thomas_Plantagenet,_2nd_Earl_of_LancasterVENERATION CULTUS OF THOMAS, EARL OF LANCASTER"SAINT THOMAS" [THOMAS THE MARTYR]PICTURE BELOW:
DEVOTIONAL PANEL OF THOMAS OF LANCASTER, PICTURINGHIS BEHEADING OUTSIDE OF PONTEFRACT CASTLEA DEVOTIONAL PANEL WAS A RELIGIOUS OBJECT, SOLDON PILGRIMAGE TO COMMEMORATE AND VENERATESAINTS AND MARTYRShttp://www.culture24.org.uk/history-and-heritage/archaeology/art522182-devotional-panel-of-beheaded-rebel-14th-century-martyr-surfaces-on-shore-of-river-thames
The beheading of the Earl is portrayed within the panel© MOLA / Andy Chopping
MY EARL THOMAS OF LANCASTER ARTICLE IN CHAPTERS!
READERS!
As I promised, I have divided my extended article "Thomas of Lancaster, rebel cousin of king Edward II, from warlord to Saint" [1] in Chapters, easier for you to readHereby the whole overview:It was nice to travel with you to fourtheenth century England.Until next time……
[1]
THOMAS OF LANCASTER, REBEL COUSIN OF KING EDWARD II, FROM WARLORD TO SAINTASTRID ESSED
https://www.astridessed.nl/thomas-of-lancaster-rebel-cousin-of-king-edward-iifrom-warlord-to-saint/
OVERVIEW IN CHAPTERS:
ASTRID ESSED
SEE AND ENJOY THE CHAPTERS
CHAPTER ONE
IN GENERAL/
FAMILY TIES/HISTORICAL CONFLICTS BETWEEN
KINGS AND BARONS/PERSONAL LIFE/POWER AND WEALTH
CHAPTER TWO
BEGINNING OF HIS CAREER/SERVICE UNDER HIS
UNCLE KING EDWARD I
CHAPTER THREE
THOMAS OF LANCASTER/CONFLICT WITH HIS COUSIN,
KING EDWARD II
From day one?
CHAPTER FOURTHOMAS OF LANCASTER AND KING EDWARD II
OUTBURST OF THE CONFLICT/PIERS GAVESTON,
THE ROYAL FAVOURITE
CHAPTER FIVEDANCE FOR POWER
THOMAS OF LANCASTER, THE UNCROWNED KING
CHAPTER SIX
OPEN WAR
DESPENSER WAR/FIRST PHASE
[February-August 1321]
CHAPTER SEVEN
OPEN WAR
DESPENSER WAR/SECOND PHASE
[October 1321[March 1322]
CHAPTER EIGHT
THE END
The travel
Revenge of the King
Reception
Trial
The others
Last passage
CHAPTER NINESAINT THOMAS
CHAPTER TEN
AFTERMATH
WHAT HAPPENED TO THE MAJOR PLAYERS IN THIS DRAMA
I
King Edward II
II
The Despensers
III
Roger Mortimer
IV
Queen Isabella
V
Henry of Lancaster
EPILOGUEWHO WAS THOMAS OF LANCASTER?