Portrait in Westminster Abbey, thought to be of Edward I
EDWARD I OF ENGLAND, "LONGSHANKS"
THE "HAMMER" OF THE SCOTS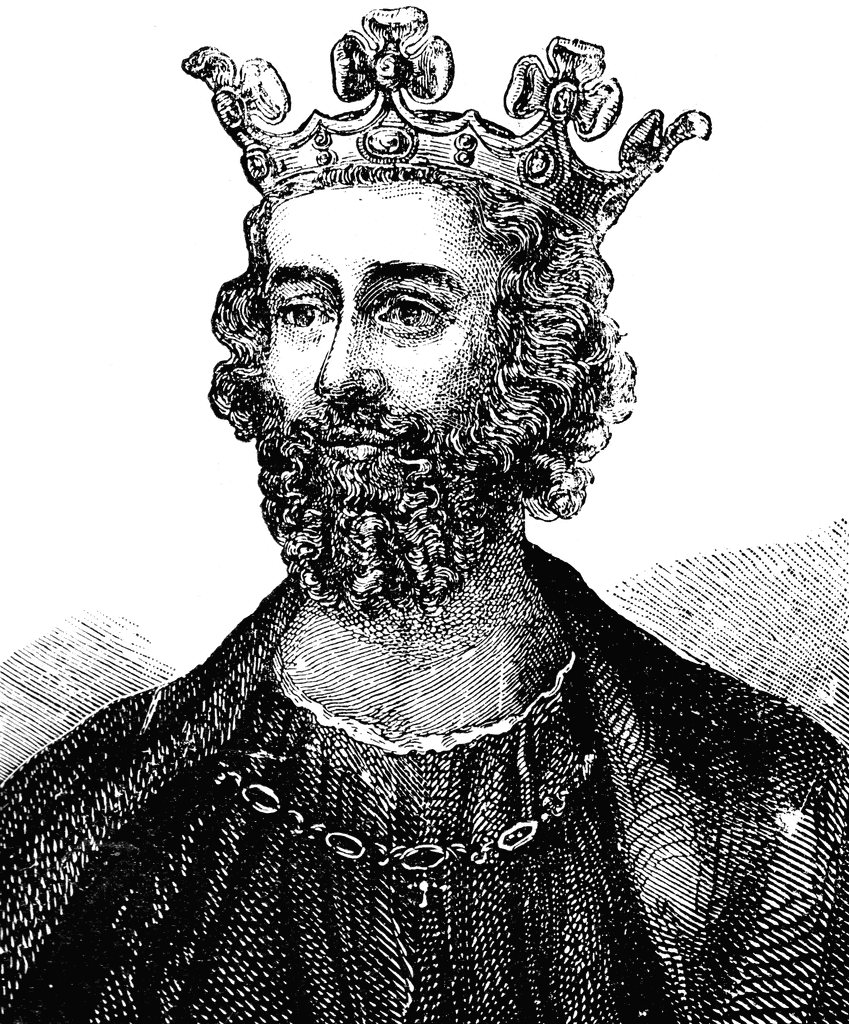 KING EDWARD II, THE TRAGIC KING
EFFIGY OF KING EDWARD II IN GLOUCESTER CATHEDRAL
INITIAL FROM THE CHARTER GRANTING GAVESTON THE EARLDOM OF CORNWALL
Guy de Beauchamp standing over the decapitated body of 
Piers Gaveston
. From the 15th-century 
Rous Rolls
.
[1]
A MACABER SCENE
THE DECAPACITATED BODY OF PIERS GAVESTON,
EXECUTED BY HIS TWO MAJOR ENEMIES, THOMAS,
2N DUKE OF LANCASTER AND GUY DE BEAUCHAMP,
10TH EARL OF WARWICK
GUY DE BEAUCHAMP IS STANDING OVER HIS
DECAPACITATED BODY
Guy de Beauchamp standing over the decapitated body of 
Piers Gaveston
. From the 15th-century 
Rous Rolls
.
[1]
GUY DE BEAUCHAMP, 10TH EARL OF WARWICK, GREAT ENEMY
OF PIERS OF GAVESTON, FAVOURITE OF EDWARD II
TOGETHER WITH THOMAS, 2ND EARL OF LANCASTER,
THE EARL OF WARWICK HAD PIERS GAVESTON EXECUTED
AFTER ABDUCTING HIM
HERE IS GUY DE BEAUCHAMP IN A MACABER SCENE, STANDING
STANDING OVER THE DECAPITATED BODY OF PIERS GAVESTON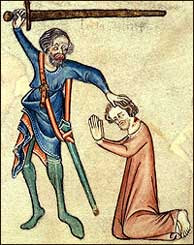 EXECUTION OF THOMAS, 2ND EARL OF LANCASTER, THE
GREAT ENEMY OF PIERS GAVESTON AND LATER, THE DESPENSERS
Seal of Henry of Lancaster from the Barons' Letter, 1301, which he signed as Henricus de Lancastre, Dominus de Munemue (Henry of Lancaster, Lord of Monmouth). His shield couche shows the armorial of Plantagenet differenced by a bend azure (see below)
SEAL OF HENRY, 3RD EARL OF LANCASTER,
BROTHER TO THOMAS, 2ND EARL OF LANCASTER
BOTH SONS OF EDMUND CROUCHBACK, BROTHER TO
KING EDWARD I AND UNCLE TO EDWARD II
MOST LIKELY OUT OF REVENGE FOR THE EXEXUTION
OF HIS BROTHER THOMAS [SEE IMAGE ABOVE]
 BY THE DESPENSERS AND THE KING, HENRY
SIDED WITH QUEEN ISABELLA AND ROGER MORTIMER
AGAINST KING EDWARD II AND THE DESPENSERS
HENRY IS THE ANCESTOR OF BLANCHE OF LANCASTER
[HIS GRANDDAUGHER], WHO MARRIED JOHN OF GAUNT
[THIRD SON TO EDWARD III]
JOHN OF GAUNT BECAME THE 1ST DUKE OF LANCASTER
SO HENRY WAS THE ANCESTOR OF THE HOUSE
OF LANCASTER
A 15th-century depiction of Isabella
ISABELLA OF FRANCE
HISTORICAL IMAGE
QUEEN ISABELLA OF FRANCE, DAUGHTER TO THE FRENCH KING
PHILIPS IV [LE BEL]
HISTORICAL FICTION
ROGER MORTIMER, 1ST EARL OF MARCH, PARTNER
IN CRIME AND MOST LIKELY LOVER OF QUEEN ISABELLA
OF FRANCE
15th-century manuscript illustration depicting Roger Mortimer and Queen Isabella in the foreground
ROGER MORTIMER AND QUEEN ISABELLA ON THE FOREGROUND
15TH CENTURY HISTORICAL  IMAGE
HISTORICAL IMAGE
HUGH LE DESPENSER THE YOUNGER, [ALONG WITH HIS
FATHER, THE ELDER] FAVOURITE TO KING EDWARD II,
WHO DIED A HORRIBLE DEATH AT THE ORDERS OF
QUEEN ISABELLA AND [MOST LIKELY] LOVER
ROGER MORTIMER AFTER THE INVASION OF
ISABELLA AND MORTIMER, WHICH LED TO THE DOWNFALL
AND FINAL DEATH OF KING EDWARD II
KING EDWARD III
HISTORICAL IMAGE
THE REIGN OF EDWARD II/EDWARD II, THE TRAGIC KING
Dear Readers
This time my travel to the past goes to some hundred years
before the Wars of the Roses, to
Why?
Because of his clear preference to his own sex [See Dr Helen Castor
a great taboo in the time wherein he lived and died, the Middle Ages.
Enter the world of this complicated and fascinating king,
a fascinating time, with fascinating characters.