Portrait in Westminster Abbey, thought to be of Edward I
EDWARD I OF ENGLAND, "LONGSHANKS"
THE "HAMMER" OF THE SCOTS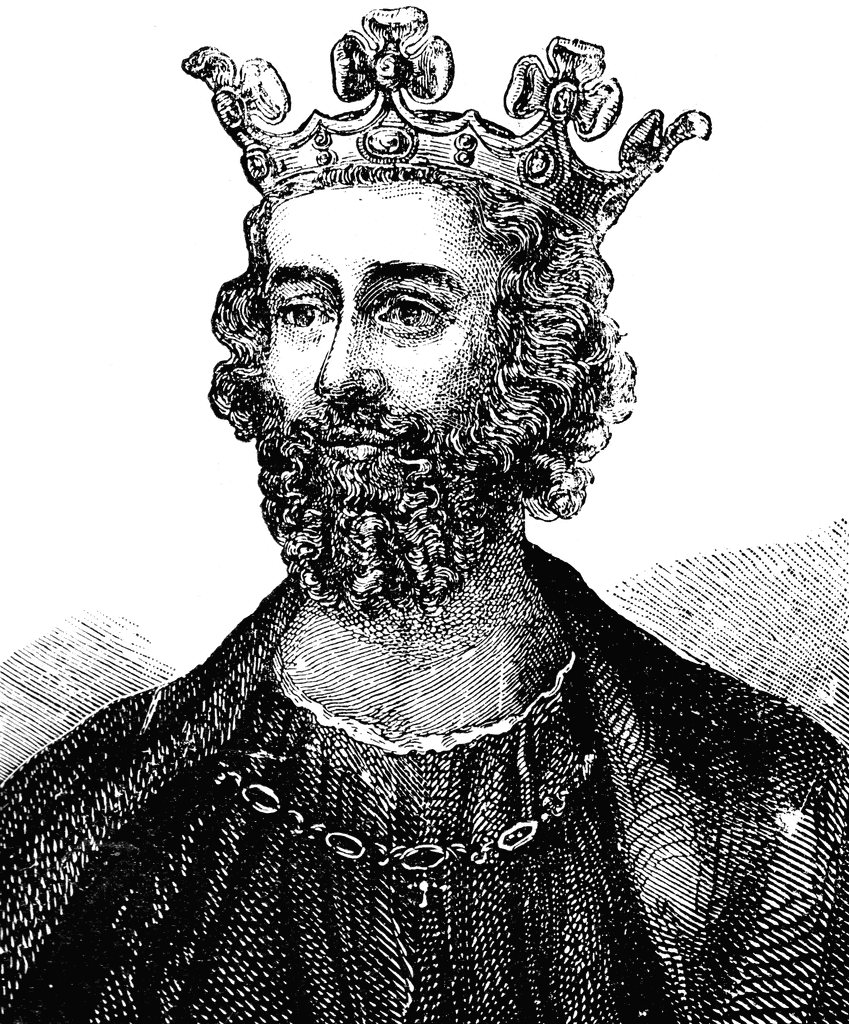 KING EDWARD II, THE TRAGIC KING
EFFIGY OF KING EDWARD II IN GLOUCESTER CATHEDRAL
INITIAL FROM THE CHARTER GRANTING GAVESTON THE EARLDOM OF CORNWALL
Guy de Beauchamp standing over the decapitated body of 
Piers Gaveston
. From the 15th-century 
Rous Rolls
.
[1]
A MACABER SCENE
THE DECAPACITATED BODY OF PIERS GAVESTON,
EXECUTED BY HIS TWO MAJOR ENEMIES, THOMAS,
2N DUKE OF LANCASTER AND GUY DE BEAUCHAMP,
10TH EARL OF WARWICK
GUY DE BEAUCHAMP IS STANDING OVER HIS
DECAPACITATED BODY
Guy de Beauchamp standing over the decapitated body of 
Piers Gaveston
. From the 15th-century 
Rous Rolls
.
[1]
GUY DE BEAUCHAMP, 10TH EARL OF WARWICK, GREAT ENEMY
OF PIERS OF GAVESTON, FAVOURITE OF EDWARD II
TOGETHER WITH THOMAS, 2ND EARL OF LANCASTER,
THE EARL OF WARWICK HAD PIERS GAVESTON EXECUTED
AFTER ABDUCTING HIM
HERE IS GUY DE BEAUCHAMP IN A MACABER SCENE, STANDING
STANDING OVER THE DECAPITATED BODY OF PIERS GAVESTON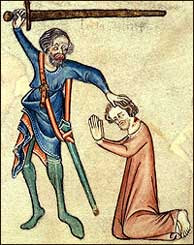 EXECUTION OF THOMAS, 2ND EARL OF LANCASTER, THE
GREAT ENEMY OF PIERS GAVESTON AND LATER, THE DESPENSERS
Seal of Henry of Lancaster from the Barons' Letter, 1301, which he signed as Henricus de Lancastre, Dominus de Munemue (Henry of Lancaster, Lord of Monmouth). His shield couche shows the armorial of Plantagenet differenced by a bend azure (see below)
SEAL OF HENRY, 3RD EARL OF LANCASTER,
BROTHER TO THOMAS, 2ND EARL OF LANCASTER
BOTH SONS OF EDMUND CROUCHBACK, BROTHER TO
KING EDWARD I AND UNCLE TO EDWARD II
MOST LIKELY OUT OF REVENGE FOR THE EXEXUTION
OF HIS BROTHER THOMAS [SEE IMAGE ABOVE]
 BY THE DESPENSERS AND THE KING, HENRY
SIDED WITH QUEEN ISABELLA AND ROGER MORTIMER
AGAINST KING EDWARD II AND THE DESPENSERS
HENRY IS THE ANCESTOR OF BLANCHE OF LANCASTER
[HIS GRANDDAUGHER], WHO MARRIED JOHN OF GAUNT
[THIRD SON TO EDWARD III]
JOHN OF GAUNT BECAME THE 1ST DUKE OF LANCASTER
SO HENRY WAS THE ANCESTOR OF THE HOUSE
OF LANCASTER
A 15th-century depiction of Isabella
ISABELLA OF FRANCE
HISTORICAL IMAGE
QUEEN ISABELLA OF FRANCE, DAUGHTER TO THE FRENCH KING
PHILIPS IV [LE BEL]
HISTORICAL FICTION
ROGER MORTIMER, 1ST EARL OF MARCH, PARTNER
IN CRIME AND MOST LIKELY LOVER OF QUEEN ISABELLA
OF FRANCE
15th-century manuscript illustration depicting Roger Mortimer and Queen Isabella in the foreground
ROGER MORTIMER AND QUEEN ISABELLA ON THE FOREGROUND
15TH CENTURY HISTORICAL  IMAGE
HISTORICAL IMAGE
HUGH LE DESPENSER THE YOUNGER, [ALONG WITH HIS
FATHER, THE ELDER] FAVOURITE TO KING EDWARD II,
WHO DIED A HORRIBLE DEATH AT THE ORDERS OF
QUEEN ISABELLA AND [MOST LIKELY] LOVER
ROGER MORTIMER AFTER THE INVASION OF
ISABELLA AND MORTIMER, WHICH LED TO THE DOWNFALL
AND FINAL DEATH OF KING EDWARD II
KING EDWARD III
HISTORICAL IMAGE
Dear Readers
This time my travel to the past goes to some hundred years
before the Wars of the Roses, to the reign of King Edward II [1]
Recently I posted some articles   from Kathryn Warner"s interesting
weblog "EdwardthesecondBlogspot"  about the reign of King
Edward II , a very tragic king. [2]
Why?
Because of his clear preference to his own sex, which was
a great taboo in the time wherein he lived and died, the Middle Ages.
This was one of the main causes for civil war in England  and his final downfall
and death [3]
Enter the world of this complicated and fascinating king,
a fascinating time, with fascinating characters.
PIERS GAVESTON, HIS FAVOURITE
We see his favourite Piers Gaveston, for whom he felt a great
friendship  and most likely a tragic love. [4]
His neglected and disloyal wife Queen Isabella, although
she was not disloyal from day one. [5]
THOMAS 2ND EARL OF LANCASTER, HIS DISLOYAL FIRST  COUSIN
Thomas, 2nd Earl of Lancaster, first loyal to the King
,later rose two times in rebellion against Edward II, first by
hunting down the King and Piers Gaveston, which led
to Gaveston's tragic death and secondly in the Despenser
War, which led to Thomas' own tragic death. [6]
HENRY 3RD EARL OF LANCASTER,  BROTHER TO THOMAS,
LOYAL FIRST, DISLOYAL LATER AND AT THE END, LOYAL AGAIN
Henry, 3rd Earl of Lancaster  and ancestor
of the House of Lancaster,  was the brother of Thomas,
2nd Earl of Lancaster. [7]
At first he was loyal to the King, not participating
to his brother's rebellions against  Edward, but then sided
with Queen Isabella and her very likely] lover Roger Mortimer,
1st Earl of March, one of the ancestors of Richard,
Duke of York [8].
Henry of Lancaster sided with the Queen and Mortimer
very likely out of revenge for the Despensers and also
the King, who were responsible for the execution
of his brother Thomas. [9]
THE DESPENSERS
After Piers Gaveston's death the new favourites
of Edward II, were the Despensers, who caused much
fury among the other nobles because Edward's favouritism
towards them, which lead to civil war, promoted by
especially Thomas of Lancaster and Roger Mortimer
, who later became Queen Isabella's lover and
partner in crime. [10]
By the way:
Difference between Piers Gaveston and the Despensers.
Piers Gaveston didn't seek political power, but only
wealth and prestige, while Hugh le Despenser [as his
father] went for political power. [11]
Back to the events:
The King and the Despensers won the war, causing the
execution of Thomas of Lancaster and then established
themselves firmly as the new regime, characterized by greed
[of the Despensers], ruthlessness and corruption. [12]
A bitter enmity broke out  between Queen Isabella and especially Despenser the Younger] and ultimately an invasion from France of
Queen Isabella and her lover Mortimer deposed the King and made an
end to the Despenser power, leading to the executions of both
father and son. [13]
After an undoubtedly unfair trial with charges of treason,
Despenser the Younger was executed horribly, the socalled traitor's death. [14]
King Edward II was imprisoned and died in 1327, most likely
murdered. [15]
In each case it is striking, that Sir Thomas Gurney, Maltravers and
William Ockley, who were suspected of involvement in
the death of Edward II,  fled later. [16]
How Edward II was treated during his imprisonment, is not
certain: the record show luxury goods brought on his behalf,
but that doesn't proof he actually got them. [17]
Some chroniclers suggest, that he was often mistreated. [18]
There is a document "The Lament of Edward II", which was once
thought to have been written by Edward himself during his imprisonment, but
modern scholarship has cast doubt on this. [19]
It is doubted also, whether he really was mistreated. [20]
EDWARD III, THE UTTER LOYAL SON OF HIS FATHER
Edward III, the utter loyal son of the King put
an end to the Isabella and Mortimer regime
and finally had  his vengence on Mortimer in 1330.
Mortimer was executed for deposing and murdering
his father, Edward II [21]
Yet in a way, Edward III was merciful.
Mortimer didn't have to face the horrible traitor's death which
he had imposed on his Despenser enemy, but was "only" hanged
at Tyburn. [22]
 Isabella was forgiven and remained extremely wealthy. [23]
After all, she was the King's mother.
Edward III was the King who started the Hundred Years War with France,
claiming his right to the French throne from maternal side,
since his mother Isabella was the daughter of the late King Philips IV, Le Bel. [24]
Background:
Philip IV's heirs, his sons, were all dead and because of the infedility
of their wives, the paternity of their offspring was unsure.
The later King Philips VI, who claimed the throne after
the death of Charles IV, [the last son of Philip IV.
was only the nephew of Philip IV, son of his brother. [25]
Edward III however, was the grandson of Philip IV, son
of his daughter Isabella.
Complicating factor however was when Edward III claimed
the throne, the Salic Law was introduced in France. [26]
EDWARD II AND HIS EARLS/A PROBLEMATIC RELATIONSHIP
For a Medieval King it was impossible to rule without his nobility.
Problem was that there was always a battle about who controlled
the country.
A "strong" King or his lords.
So it was of the greatest importance to be authorative and yet
keeping a good relationship with the Earls.
Edward II however, was neither authorative, nor could
he go along with his Lords.
His favouritism, first of his loved friend Piers Gaveston and
later of the Despensers alienated loyal lords from him, which eventually
lead to civil war and his own downfall. [27]
The very proof of his lack of authority was the hunting down of him and
his favourite Piers Gaveston through England by his powerful cousin and
enemy Thomas of Lancaster, not to settle scores with
the King, but with Gaveston. [28]
However, this would not have happened with a King
with authority.
Anyway, it was clear, that Edward II had many headaches over his Earls,
and many lost their lives during his reign.  [29]
EDWARD II/SOME QUESTIONS
Those were some important players in the drama I call the Edward II tragedy.
But some questions still rise, from which I will not mention all
of them, but some, which are interesting to me and perhaps
a source for further historical research
There are also funny questions, as you will see.
HIS RELATIONSHIP WITH HIS WIFE, ISABELLA
HOW WAS THE RELATIONSHIP BETWEEN ISABELLA AND
EDWARD II OR OTHERWISE SAID
WHEN AND WHERE  IT WENT WRONG?
According to Dr Helen Castor in her documentary "She Wolves, England's
Early Queens, Isabella and Margaret", to be listened on Youtube, the marriage was a disaster
from the beginning and that however Isabella did her best to perform
the duties of a Medieval Queen and consort, it was rebuked by her
husband's choice of favourites. [30]
Kathryn Warner, writer of the book "Edward II, the Unconventional
King" however suggests in her Blogsport article "Isabella of France
and her relationship with Edward II" , that the marriage was loving,
 even when Edward II was already in prison, since she continued to send him
gifts and letters. (31)
However I ask myself whether those tokens of affection were
serious or, as the luxury goods, sent to the prison on Edward´s behalf
. a show for the world, because I can't imagine
a wife deposing her husband of his power and sending him
to prison and simultaneously having an affection for him.
Therefore I doubt Kathryn Warner´´s allegations of the still
ongoing affection of Isabella for her husband, not only
because you don´t imprison somedone you are attached to.
But also because of Edward´s yearlong
neglection [which I call it when a man so obviously chooses
for favourites, not only politically, but also emotionally].
And despite that, Isabella´s affection would remain?
Hard to believe.
And don't forget it was a purely arranged, political marriage.
But historians can always speculate about this.
WHAT WAS THE CAUSE OF THE EXTREME HATRED OF QUEEN ISABELLA
FOR HUGH LE DESPENSER THE YOUNGER/RAPE?
I have always wondered, what were the deeper causes
behind  the bitterness Margaret of Anjou, wife to pious
and gentle King Henry VI and one of the major
players in the Wars of the Roses, towards Richard, Duke
of York , since merely a dynastic quarrel doesn't explain everything to me. [32]
This enmity is much mentioned by historians and historical novel
writers, whether they were sympathetic to Margaret or not, but without
a thtourough explanation of the source of the bitterness, which stemmed,
according to me, mainly from Margaret.
However, historians did a better job for Queen Isabella:
Historian Alison Weir, writer of " Isabella, She Wolf of France,
Queen of England", tried to explain the intense dislike of
Queen Isabella, for especially Hugh Despenser the Younger
by the allegation, that he raped her once. [33]
A Medieval Queen, daughter to the French King, raped by a common nobleman, however high his position and favouritism by the King?
I find that hard to believe.
My opinion, that Isabella has not been raped by Hugh Le Despenser
 is shared by another distinguished historian, Kathryn Warner and
author of the book "Edward II, The Unconventional King".
On her Blog  "Edwardthe scecondBlogspot" she wrote an article
about this alleged rape. [34]
She argues, that it is very unlikely, Despenser the Younger should have raped
Isabella, strengthening her opinion, that Alison Weir based on one source
and gives her own interpretation, without any proved historical
sources. [35]
So if not the rape story, where did the hate stem from?
To involve the bitterness of Margaret of Anjou towards the Duke of
York again:
At least York showed formal respect to Margaret.
That can't be said from Hugh le Despenser [who of course
had a total different position, being favourite to the King, but that
aside], towards Queen Isabella.
He and his father  treated Isabella with the utmost disrespect,
, she was for example not allowed to see her husband alone, since
apparently one of the Despensers had to be present. [36]
Such was a great insult to a Medieval Queen, daughter to a King.
When Queen Isabella was in France negociating a peace treaty between
her husband and brother King Charles IV, Hugh le Despenser
supposedly tried to bribe French courtiers to assassinate Isabella [37]
When this is true or at least was believed by Isabella, it can explain
 the hatred she felt for especially Despenser the Younger.
But however the causes, her hatred and bitterness went very deep, since not only
Despenser the Younger was executed on a horrible way, also  his
wife and children paid a price. [38]
Eleanor de Clare, his wife, Edward´s favourite niece, was imprisoned  and
in january, 1327,Queen Isabella  issued an order that
three daughters of Hugh Le Despenser the Younger,  should be veiled as
a nun ´´without delay´´(39)
The only reason Despenser´s eldest and youngest daughter escaped
the nunnery, were because the eldest was already married and the
youngest just an infant.
And although Queen Isabella and Roger Mortimer spared the
life of the eldest son of Hugh Le Despenser, he was imprisoned
for the rest of their regime, without committing any crime. (40)
WAS EDWARD II REALLY KILLED
Another striking question is the way Edward II met his death,
which is to divided in two themes.
Was he murdered or not?
And when he was murdered, was he
murdered on the horrible way which
is common narrative? [41]
It is generally accepted, that after the invasion of Isabella
and Mortimer in England, the capture of Edward and Hugh
Despenser the Younger, Edward's imprisonment and the
execution of both Despenser father and son, Edward was finally
murdered on the orders of Isabella and Mortimer. [42]
After his forced abdication in january 1327
in favour of his son, the later Edward III, he was first 
imprisoned in Kenilworth Castle under the care of his cousin
Henry, 3rd Earl of Lancaster
, who treated him with respect
It is possible, that this good treatment changed, when Edward was
transferred to  Berkeley Castle [where it is generally assumed that he died],
where his jailor was Thomas, Lord Berkeley, son in law of
Lord Berkeley had been imprisoned for several years by Edward and his
father died during his imprisonment, so he could have taken revenge 
by not treating Edward well, although there is no proof he did. [45]
In each case Berkeley faced a trial as
 an accessory to the murder
of Edward II, but was acquitted. [46]
Whether Edward II really faced the horrible death that is
narrated isn't sure at all.
Kathryn Warner, writer of" Edward II, an Unconventional
King", finds the horror story hard to believe, although she assumes that 
he likely is being murdered. [47]
However, the writer Ian Mortimer assumes, that Edward was
not killed at all [68], but lived abroad, being  released after the
execution of Roger Mortimer. [48]
Interesting for historians to investigate further, but to me  it is
very likely, that Isabella and Mortimer, after deposing Edward
in favour of his son, would finally get rid of him.
Since there was no "abdication" of Kings in the Middle
Ages, the situation of two anointed Kings  in England
[one deposed and one crowned, could easily
be a threat for Edward III and therefore for the
regime of Isabella and Mortimer, the de facto rulers, since
Edward was nearly a prisoner. [49]
COULD POSSIBLY SCOTTISH FREEDOM FIGHTER WILLIAM WALLACE
HAVE FATHERED EDWARD III
A JOKE AND A FAIRY TALE
The last question I want to mention here is simply
a joke, implying that Scottish freedom fighter William Wallace
could have been the father of Edward III. [50]
The story is told in the film "Braveheart" , which I highly
value because of the coureageous resistance of the Scottish against
English domination. [51]
But however impressive, historical facts must be correct.
Although it would be highly unlikely [as presented in the film]
 that King Edward I would have sent his daughter in law,
wife to his heir and daughter to the French King, to "negociate"
with the rebel Braveheart [unless he wanted war with France,
since the French King would not forgive this insult to his daughter,
let alone the danger for holding as a hostage, to which she was exposed],
the historical facts speak against this fairy tale since:
William Wallace was executed in 1305, while Edward III was born in
1312. [52]
When William Wallace was executed, the future Queen Isabella was
just nine years old and still at the Court of her father, King Philips IV. [53]
King Edward I and Isabella never met, since he died in 1307 and
Isabella came to England in 1308. [54]
And do you want to have a good laugh?
Even Roger Mortimer, later lover of Queen Isabella
and supposedly responsible for the death of Edward II
has been mentioned as the father of Edward III. [55]
Problem with that is, that Mortimer was physically
absent at the moment of the conception of Edward III,
since he was in Ireland, a country, Isabella never visited. [56]
Besides there is no proof or indication, that Isabella and Mortimer
had a relationship before late 1325. [57]
Funny stories.
No historical facts.
Of course I don't close my eyes for the less dramatical and more
political sides of Edward II's period.
The political ill judgment and lack of military skill [unlike his
father King Edward I, as his dependance of favourites,thus
alienating his natural allies, the powerful nobility [represented
The obvious greed and arrogance of his favourite and likely
lover Piers Gaveston. [59]
The corruption and misuse of power during Edward's alliance with
the Despensers and the mock trials,  they gave their enemies like
the 2nd Duke of Lancaster, although Edward II was merciful enough [likely
because of his close relationship with the Earl] not let him hanged,
drawn and quarted, but merely beheading [60]
And later, after Edward was stripped from power,
 the arrogance, misuse of power and personal
enrichment 
of the Isabella/Mortimer regime [61]
But here I have emphasized on the more personal, dramatic sides
of the reign of Edward II, especially the impossibility of following
his own sexual preference, and his love for Piers Gaveston,
with all the tragic events involved and the reaction of his environment.
Whether he was murdered or not [murder is the most likely]
he met a tragic end. [62]
This, as his complicated personality and his turbulent reign, is
much worth to pay attention to.
He had a tragic life.
Sometimes I wonder if Edward rather had died that fatal
day his beloved Piers Gaveston lost his life………….
Thanks for travelling with me to the past again.
Astrid Essed
NOTES
[1]
EDWARDTHESECOND BLOGSPOT
WHO'S WHO IN EDWARD II'S ERA
[2]
WIKIPEDIA
EDWARD II OF ENGLAND
EDWARDTHESECOND BLOGSPOT
ON MY WEBSITE:
KING EDWARD II/[EDWARD THE SECOND BLOGSPOT]/
WHAT HAPPENED AFTER THE BARONS KILLED PIERS
GAVESTON
KING EDWARD II/[EDWARD THE SECOND BLOGSPOT]/ISABELLA
OF FRANCE AND HER RELATIONSHIP WITH EDWARD II
KING EDWARD II/[EDWARD THE SECOND BLOGSPOT]/
EDWARD II AND HIS CHILDREN AND WHY NEITHER WILLIAM
WALLACE NOR ROGER MORTIMER WAS THEIR FATHER
KING EDWARD II/[KATHRYN WARNERS' EDWARD THE SECOND BLOGSPOT]
/HUGH, LORD DESPENSER (c.1309-1349)
[3]
SHE WOLVES/ENGLAND'S EARLY QUEENS/ISABELLA
AND MARGARET
DR HELEN CASTOR
WIKIPEDIA
EDWARD OF ENGLAND
DEATH AND AFTERMATH
[4]
WIKIPEDIA
PIERS GAVESTON, 1ST EARL OF CORNWALL
WIKIPEDIA
PIERS GAVESTON AND SEXUALITY
SOURCE
WIKIPEDIA
EDWARD II OF ENGLAND
[12]
WIKIPEDIA
THOMAS, 2ND EARL OF LANCASTER/CONFLICT WITH
EDWARD II AND DEATH
WIKIPEDIA
HUGH LE DESPENSER, 1ST EARL OF WINCHESTER
[26]
WIKIPEDIA
HUNDRED YEARS'  WAR
WIKIPEDIA
EDWARD II OF ENGLAND
LATER REIGN
(1321-26)
[29]
EDWARDTHESECONDBLOGSPOT
THE ENGLISH EARLS IN THE REIGN OF
EDWARD II
[31]
[33]
WIKIPEDIA
HUGH DESPENSER THE YOUNGER
RELATIONSHIP WITH EDWARD AND ISABELLA
[34]
EDWARDTHESECONDBLOGSPOT
DID HUGH DESPENSER THE YOUNGER RAPE ISABELLA
OF FRANCE?