ISRAELI SETTLEMENTS IN THE OCCUPIED PALESTINIAN
TERRITORIES
ILLEGAL ACCORDING INTERNATIONAL LAW
ETHNIC CLEANINGS OF THE PALESTINIANS
IN 1948
NO SEA TO HIGH FOR ISRAELI OCCUPATION STATE
ETHNIC CLEANSINGS, LANDROBBERY [ILLEGAL SETTLEMENTS] AND WARCRIMES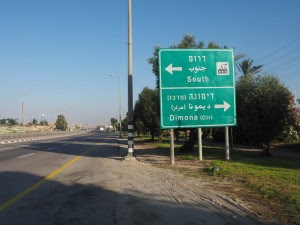 Sign at the entrance to Dimona, with "Death to Arabs" graffiti painted over Photo: Dan Cohen
TO THE MAYOR OF ANDERNACH
MR A HUTTEN
Subject:
The alliance between your city Andernach and the Israeli city
Dimona
Dear Mr Hutten,
I've recently learnt, that your city, Andernach  and the Israeli city Dimona
are twin cities since 1975. [1]
Not only Dimona, with its nuclear Research Centre, is a threat to peace and
humanity [2], there is a horrendous racism, reason enough
 for you to break all ties immediately.
To that racism I refer later.
First this:
ISRAELI OCCUPATION, OPPRESSION AND HUMAN RIGHTS VIOLATIONS
Dimona, as a city  is not only part of the Israeli occupation State,
but by its nuclear involvement also an destructive military guardian
of the occupation.
Occupation State Israel is systematically violating the rights of the
occupied Palestinians.
The list is long, but here some horrible examples: