ISRAELI SETTLEMENTS IN THE OCCUPIED PALESTINIAN
TERRITORIES
ILLEGAL ACCORDING INTERNATIONAL LAW
ETHNIC CLEANINGS OF THE PALESTINIANS
IN 1948
NO SEA TO HIGH FOR ISRAELI OCCUPATION STATE
ETHNIC CLEANSINGS, LANDROBBERY [ILLEGAL SETTLEMENTS] AND WARCRIMES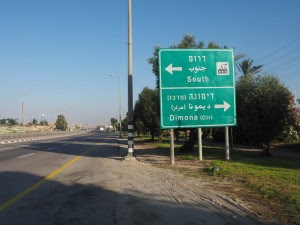 Sign at the entrance to Dimona, with "Death to Arabs" graffiti painted over Photo: Dan Cohen
TO THE MAYOR OF ANDERNACH
MR A HUTTEN
Subject:
The alliance between your city Andernach and the Israeli city
Dimona
Dear Mr Hutten,
I've recently learnt, that your city, Andernach  and the Israeli city Dimona
are twin cities since 1975. [1]
Not only Dimona, with its nuclear Research Centre, is a threat to peace and
humanity [2], there is a horrendous racism, reason enough
 for you to break all ties immediately.
To that racism I refer later.
First this:
ISRAELI OCCUPATION, OPPRESSION AND HUMAN RIGHTS VIOLATIONS
Dimona, as a city  is not only part of the Israeli occupation State,
but by its nuclear involvement also an destructive military guardian
of the occupation.
Occupation State Israel is systematically violating the rights of the
occupied Palestinians.
The list is long, but here some horrible examples:
Illegal settlements:
Since the end of the sixties [former century] Israel builds and expands
settlements in occupied Palestinian territories, which are illegal according
to International Law. [3]
Building settlements means disowning Palestinian land, so mere landtheft.
And if this isn't worse enough, often settlers are terrorising the Palestinian
population without being punished [we call that ; impunity] , since the Israeli army either tolerates this, or, still worse, is helping the settlers with their crimes. [4]
Illegal Israeli Wall
Not only the Israeli Wall is illegal, running through occupied
Palestinian territories [5], it also restricts Palestinian freedom of
movement, and is a hindrance for access to schools and hospitals. [6]
Gaza Blockade
To Israel´s shame and disgrace, the Gaza Blockade goes on and on.
Since the Israeli government, in 2007, classified Gaza as a ´´hostile
entity´´, as a whole (7), considering the civilian population
as ´´combatants´´ (a warcrime) (8), it blockades foods, fuel and
other life necessities.
This is a crime against humanity, (9)
BLOODY GAZA WARS/PROTECTIVE EDGE
Of course you are informed about the bloody Israeli military
operations in Gaza.
The last one, in 2014, "Protective Edge", caused more than 2100
Palestinian deaths [10] a third of them were children.
Health workers were attacked and even hospitals and schools
[11].
Thousands of people were made homeless.
Worse:
According to an UNCTAD report, a great part of Gaza is now
uninhabitable because of "Protective Edge" [12]
ISRAELI ARMY CONDUCT IN GENERAL
And apart from those Gaza operations:
An Amnesty International report revealed the trigger happy
behaviour of the Israeli army in general. [13]
PRESENT TIME/OCCUPATION HORROR GOES ON
All those horrific [war]crimes are going on and on:
Civilian houses are being bombed [14], people are
killed  at military checkpoints
[15], unlawful killings and collective punishments take place [16]
,demonstrators are being shot at [17] and to my horror
I learned of an extrajudicial execution in a hospital. [18]
Yes, you read it well.
A hospital!
A barbaric act.
Dimona is not an island in a sea, but part of the Israeli occupation
State to which it also gives a nuclear-military contribution. [19]
That alone is reason enough to break all ties.
RACISM IN DIMONA
Shocking to me are two things:
The racism in Dimona and the fact, that you were informed
about it [20], yet you seem to ignore it.
Therefore a refreshing of your memory:
Dimona is so racist stricken, that it seems "acceptable"
to most of the inhabitants:
Throughout the town, racist graffiti can be seen in abundance on signs,
walls and buildings.
"Death to Arabs" is a common sight.
On the highway sign marking the towns main entry point,
"Death to Arabs"  is written. [21]
Later it was painted over. [22]
But with that the problem is, of course, not solved:
Stickers of the extreme right wing Lehava organisation flourish [23]
"Death to Arabs" racist graffiti is also written in the neigbourhood of pre
-schools and the city hall is not very cooperative to remove
this rubbish. [24]
And that's not all!
Fysical attacks also take place!
Recently [in october], three Palestinian construction workers and
a Bedouin were stabbed by a Jewish man in Dimona. [25]
And that's the city you have a twin sistership with!
Shame to you!
Is that, your an example of  twin sistership with Dimona,
"European values"?
CONCLUSION
Knowing about the atrocities the Israeli occupation
State, the nuclear role of Dimona and the flourishing racism,
you have only one option:
To break immediately and unconditionally all ties with
Dimona.
It is a shame and disgrace already, that I have to write you
this letter to point this out to you, while it is your
task to be informed about all this.
So mr Hutten, break all ties with Dimona now!
If not, you are co responsible for occupation, oppression
and racism.
Make the right choice.
I write you this letter, so that you can't say:
"Ich habe ess nicht gewusst."
Kind greetings
Astrid Essed
Amsterdam
The Netherlands
NOTES
[1]
"Diese Städtepartnerschaft war die erste zwischen einer israelischen und einer deutschen Stadt überhaupt, die am 18. Oktober 1975 ins Leben gerufen wurde."
ISRAEL HEUTE
30 JAHRE STADTEPARTNERSCHAFT
ANDERNACH-DIMONA
DIENSTAG 20 SEPTEMBER 2005
WIKIPEDIA
LIST OF ISRAELI TWIN TOWNS AND SISTER CITIES
DIMONA-ANDERLACH
ORIGINAL SOURCE:
WIKIPEDIA
LIST OF ISRAELI TWIN TOWNS AND SISTER CITIES
[2]
WIKIPEDIA
NEGEV NUCLEAR RESEARCH CENTER
PENTAGON ADMITS THAT ISRAEL IS A NUCLEAR POWER
1 APRIL 2015
[3]
[9]
BBC
UN OFFICIAL SLAMS ISRAEL "CRIMES"
10 DECEMBER 2008
BLOCKADE ON GAZA: CRIME AGAINST HUMANITY
ASTRID ESSED
14 FEBRUARY 2008
ALAKHBAR/ENGLISH
THE VICTIMS OF GAZA: A LIST OF PALESTINIANS KILLED
IN ISRAEL'S ONGOING ASSAULT
[11]
HUMAN RIGHTS WATCH
GAZA: AIRSTRIKE DEATHS RAISE CONCERNS ON
GROUND OFFENSIVE
22 JULI 2014
AMNESTY INTERNATIONAL
MOUNTING EVIDENCE OF DELIBERATE ATTACKS
ON GAZA HEALTH WORKERS BY ISRAELI ARMY
7 AUGUST 2014
BLACK FLAG: THE LEGAL AND MORAL IMPLICATIONS
OF THE POLICY OF ATTACKING RESIDENTIAL BUILDINGS
IN THE GAZA STRIP, SUMMER 2014
JANUARY 2015
THE GUARDIAN
GAZA SCHOOL ATTACK DENOUNCED AS
´´CRIMINAL ACT´´ BY UN CHIEF
INTERNATIONAL RED CROSS
NO WONDER GAZANS ARE ANGRY.
THE RED CROSS CAN'T PROTECT THEM
25 JULI 2014
[12]
UN
REPORT ON UNCTAD ASSISTANCE TO PALESTINIAN PEOPLE:
DEVELOPMENTS OF THE OCCUPIED PALESTINIAN TERRITORY
6 JULY 2015
[13]
AMNESTY INTERNATIONAL
TRIGGER HAPPY/ISRAEL'S USE OF
EXCESSIVE FORCE IN THE WESTBANK
FEBRUARY 2014
[14]
MILITARY BOMBS HASSAN FAMILY HOME IN A-ZEITUN
NEIGHBOURHOOD, GAZA, KILLING PREGNANT WOMAN
AND TODDLER
22 OCTOBER 2015
ALJAZEERA
YOUNG PALESTINIAN WOMAN SHOT BY ISRAELI FORCES
DIES
22 SEPTEMBER 2015
[16]
AMNESTY INTERNATIONAL
ISRAELI FORCES IN OCCUPIED PALESTINIAN TERRITORIES
MUST END PATTERN OF UNLAWFUL KILLINGS
27 OCTOBER 2015
COLLECTIVE PUNISHMENTS
AMNESTY INTERNATIONAL
THIS IS WHAT BEING "THOUGH ON TERROR" LOOKS
LIKE IN EAST JERUSALEM
30 OCTOBER 2015
[17]
ALJAZEERA
ISRAELI FORCES KILL PALESTINIAN PROTESTERS IN GAZA
9 OCTOBER 2015
ISRAELI FORCES KILL PALESTINIANS AT QALANDIYA CAMP
[18]
ALJAZEERA
ISRAELI ARMY UNIT STORMS HOSPITAL AND KILLS
PALESTINIAN
13 NOVEMBER 2015
UNDERCOVER ISRAELI TROOPS RAID HOSPITAL, KILL
PALESTINIAN
12 NOVEMBER 2015
[19]
WIKIPEDIA
NEGEV NUCLEAR RESEARCH CENTER
PENTAGON ADMITS THAT ISRAEL IS A NUCLEAR POWER
1 APRIL 2015
[20]
MONDOWEISS
RACISM IS PART OF THE LANDSCAPE IN THE SOUTHERN ISRAELI
TOWN OF DIMONA
24 AUGUST 2015
MONDOWEISS
RACISM IS PART OF THE LANDSCAPE IN THE SOUTHERN ISRAELI
TOWN OF DIMONA
24 AUGUST 2015
MONDOWEISS
RACISM IS PART OF THE LANDSCAPE IN THE SOUTHERN ISRAELI
TOWN OF DIMONA
24 AUGUST 2015
[25]
THE HAARETZ
JEWISH MAN STABS THREE PALESTINIANS, BEDOUIN
IN DIMONA
9 OCTOBER 2015