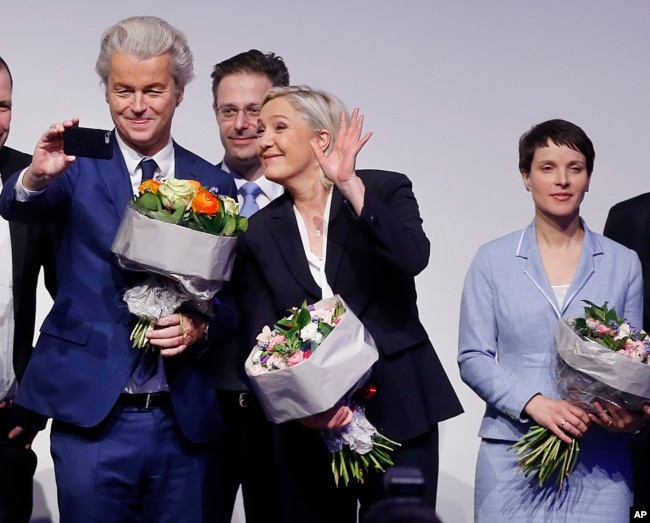 AfD (Alternative for Germany) chairwoman Frauke Petry, right, Far-right leader and candidate for next spring presidential elections Marine le Pen from France, center, and Dutch populist anti-Islam lawmaker Geert Wilders stand together after their speeches at a meeting of European Nationalists in Koblenz, Germany, Saturday, Jan. 21, 2017.
FASCIST LEADERS FRAUKE PETRY [GERMANY], MARINE LE
PEN [FRANCE] AND GEERT WILDERS [PVV/THE NETHERLANDS],
THREE DANGEROUS HATE MONGERS!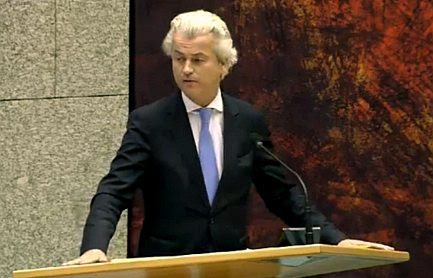 PVV FUHRER WILDERS, THE DUTCH FASCIST LEADER
FIGHT HIM AND HIS PARTY, THE PVV, BEFORE IT IS TOO LATE!
COCKTAIL OF HATRED
ISLAMOPHOBIA, RACISM, HATRED AGAINST REFUGEES
GEERT WILDERS, THE CROOKED MAN IN HIS CROOKED HOUSE AND
HIS CROOKED MESSAGE!
WILL THE TIME COME, THAT MUSLIMS AND OTHER NON WESTERN
INHABITANTS OF THE NETHERLANDS HAVE TO PACK THEIR BAGS?
FIGHT FASCISM WITH THE PEN AND THE SWORD!
DUTCH ELECTIONS 2017/PVV IN POWER OR NOT/TERROR REIGN OR FREEDOM
THE NETHERLANDS OURS AGAIN!
Election results in favour of Wilders/PVV [Party for Freedom] [1]
The elections polls have spoken the truth! [2]
That's what's happening in this election night:
The PVV victory news goes international, national,
viral, European, wherever in the world.
Apart from some daring souls, the other Parties of the Netherlands react intimidated, warily, evasively.
A party, which tries to match with Wilders [PVV]
by "Letter to all Nederlanders" [3], opens the door
slowly to a government alliance with the PVV.
Despite their [false] promise that there is "zero" chance for a
coalition with Wilders. [4]
THE STATE, THE STREET, HORROR
And then the "election night"
While the PVV adherents are feasting in Duch
pubs and so on, hell is breaking out in the
Attacks on Mosques and refugee shelters are set
The government reacts "shocked", but doesn't take
"A few "'lunatics'………"
The following weeks horror continues:
Innocent  "non-western' passers by are
being attacked on the streets, muslima's
wearing head scarfs insulted, coffeeshops and
shoarma restaurants are set in fire…..
The first non-western residents, mostly intellectuals,
who struggle against the PVV and held a Plan B
for long, but were called too "suspicious", pack their
bags, their laptops and some personal belongings.
A well known writer, medieval historian and progressive
political activist, let her readers and acquaintance known,
far from an island in the sea, that life in the Netherlands
has become unbearable, but that she continues the struggle.
An active student, often arrested during demonstrations
and threatened by neo nazi's during the election night
[at the last moment saved by two Surinamese daring souls]
Someone, who supports refugees, often threatened, receives
a bomb letter during the election night [to no avail,
he is chemist and knows how to handle bombs].
A squatter, known by neo-nazi's.
Also others, who are less of an "activist", but feel threatened anyway.
The leader of a political party, who once declared, to
become an "asylumseeker", when Wilders came to power.
[6]
A journalist, who repeatedly warned against the
A TV presentator, who was a die hard opponent of
A chief editor of a paper, who loved freedom.
And in the weeks to come "ordinary" people
begin to pack their bags.
There is not yet a massal departure/flight of non westerners,
but flights to Paramaribo [capital city of
Suriname], Rabat, Akkra and Istanbul [for instance]
Even the Royal Family departs from the Netherlabds!
The King, accompanied by his wife, daughters and
mother [Princess Beatrix, former Queen, who had once\
spoken out against Wilders [7], following the
tradition of his great grandmother Wilhelmina,
as his grandmother Juliana [who left for
England and Canada during World War II] [8]
On Twitter [hoorray! wake up in the 21th century!],
and not by radio, like his greatgrandmother Wilhelmina,
the King declares, he not longer stands behind the State
of Affairs in the Netherlands [taking an oath on the
Constitution, securing equality], since equality prevails
and freedom of religion no longer exists.
But now I am getting ahead of the case, because the King
is only leaving afer the first Wilders measures, the abolishment  of
article 1 of the Constitution [the "non-discrimination article]
[9], the prohibition of the Koran, the closure of Mosques,
as, last but not least, the reintroduction of the death penalty!
And the death penalty, the King had declared nit to
Wonder, if the decision of the King was also motivated
by the fact, that, to appease the wishes of the
"angry white man", the royal income the State provided, was reduced to zero………
THOSE WHO STAYED, THE TRUE HEROES
But luckily there are people, who stay behind, not because
they are forced to [not being famous or lacking the financial means to leave].
But people who stay voluntarily, to wage the battle
against the fascist Wilders regime.
The activist, persecuted and stalked by judicial authorities 
for speaking out for freedom, can escape, but stays.
The international blogger, who considers it his duty
The leader of the union, who states, that not only "white" workers have rights.
The refugee activist, who doesn't want to abandon the
THOSE ARE THE TRUE HEROES!
Because the measures the new regime takes, are no
Abolishment of all equality.
In the Constitution is now to be read, that
the "Dutch" and "Western" culture is the leading principle.
The abolishment of freedom of religion.
The Constitution speaks about the "Jewish-Christian
identity [11], neglecting all the centuries of anti-semitism.
Mosques are closed, Korans forbidden, borders are
closed [besides for non-westerners, who want to leave
the Netherlands of course!], progressive papers and organisations forbidden, progressive activists
And of course, the reintroduction of the death penalty!
The election program of the fascist is being executed. [13]
Like Nazi Germany of the "Aryan race?"
The abolishment of the royal income after when
the King, his wife, daughters and mother leave
He has not to worry about his other relatives.
His one surviving brother [14] already lives abroad.
And the other members of his family will
No loss, some people will say.
That may be, but the circumstances of their
He doesn't have to worry about his other family members:
His one surviving brother [14] lives already abroad.
His other family members soon will follow
in exile.
OKAY, SO FAR THE FANTASY, THE "HORROR"
STORY
BUT NOW:
REMEMBERED
THE PVV
WHERE IT STANDS FOR?
Did I exaggerate with my horror scenario?
Maybe.
Let's hope so.
But it will come to reality, sofar as the PVV is concerned.
Let's have a closer look to this xenophobic party:
PVV WILDERS/PARTY OF HATRED
From the beginning Wilders and his party waged a witch hunt
against muslims, non-western residents and refugees.[15]
And it became extremer and extremer.
An example:
Wilders garbage piece "Enough is enough. Forbid the Koran" [16]
Then there was the socalled "Moroccan debate" in parliament,
of course instigated by the PVV, by which all Moroccons
were considered as "criminal" [17]
Regular politicians, SHAME TO YOU, to  have permitted
such a debate without any protest! [18]
You should have refused to even debate about this.
Ir reminds me of "Judenfrage"……………. .[19]
Lots of examples can be given:
For instance the Wilders "less Moroccans" scandal [20]
which lead to many protests. [21]
And eventually a condemnation by the judge. [22]
But as a real fascist Wilders knows no measure:
The next step was the closure of Mosques, closures
of all Islamic schools and the prohibition of the
Hardcore religious persecution!
EXTREME RIGHT WING PARTIES/PEGIDA
And then the political connections of Wilders:
With the Pegida neo nazi'a [24], where he held
a speech on 13 april 2015, in Dresden. [25]
Relations with scary extreme right wing clubs as
Le Front National and co [26]
In 2015 Wilders began actively to spark hatred
against refugees, coming from war stricken
He called them testosteronbombs and vehemently
pleaded for closing all borders, a notorious
He also called the refugee crisis an "Islamic invasion"
[28]
Not content yet, he stated, that all male refugees must
be locked up in asylumcamps for fear of a "sexual Jihad"
[29]
Realize, dear Readers, that no crime was committed!
He called on the people to resist "peacefully" against
the coming of refugees in their town/village [30],
thus co responsible for outbursts of violence against
refugees, which took place. [31]
A FINE PIECE OF CAKE, THAT WILDERS!
AND AN ENEMY TO PARLIAMENTARY DEMOCRACY/
Neither his own colleagues in parliament, or
the parliament itself, from which Wilders is a member, can rejoice in Wilders political friendship.
He called parliament a "fake parliament [32]
not once, but several times.
And he is a direct threat to the formal democracy,
since he has predicted "a revolt" if the PVV is not
in the next coalition…….[33]
Wilders said [I quote Dutchnews]
'My call is, was and remains that other political parties will have to work with the PVV,' Wilders told Nos. 'No one will be able to explain why if that does not happen. I think the public will rebel.' [34]
And then he has the guts, to hope, that "the revolt"
will be democratic and without violence. [35]
EPILOGUE
A grandmother sits on the beach, in a far island,
watching the play of her grandchildren.
A student is finishing her study and thinks of her people
in her homeland.
A refugee activist works with refugees in a new land.
A squatter lives in a new living community, in another
land and tries to hack the institutions of a fascist regime.
Non westerners see their families again, in their land of
origin.
Exiles.
Exiles.
So futurologist Celente has right anyway….. [34]
Or not.
Is this the way it will be?
But don't underestimate those who stay.
THEY FIGHT!!!!!!!!!!!
Untill the fascist Beast is beaten.
It could happen like this.
UNLESS
We stop the fascist and cause his splendid election
defeat.
If not:
FIGHT, UNTILL THE EVIL IS BEATEN!
In the Netherlands, or somewhere else.
Astrid Essed
NOTES
[27]
ALJAZEERA
WILDERS: MIGRANT MEN ARE ISLAMIC "TESTOSTERONEBOMBS"
23 JANUARY 2016
THE DAILY MAIL
EUROPE'S BORDERS MUST BE CLOSED ACROSS
EUROPE TO HALT AN "ISLAMIC INVASION", SAYS FAR-RIGHT DUTCH
POLITICIAN GEERT WILDERS
13 NOVEMBER 2015
[28]
THE DAILY MAIL
EUROPE'S BORDERS MUST BE CLOSED ACROSS
EUROPE TO HALT AN "ISLAMIC INVASION", SAYS FAR-RIGHT DUTCH
POLITICIAN GEERT WILDERS
13 NOVEMBER 2015
REUTERS
WILDERS TELLS DUTCH PARLIAMENT REFUGEE CRISIS IS
"ISLAMIC INVASION"
10 SEPTEMBER 2015
[29]
THE INDEPENDENT
FAR-RIGHT DUTCH POLITICIAN, GEERT WILDERS, SAYS MALE
REFUGEES MUST BE KEPT IN "ASYLUM CAMPS" TO STOP
"SEXUAL JIHAD"
23 JANUARY 2016
[30]
"
Right-wing politician 
Geert Wilders
 has been described as "a threat to democracy and the rule of law" in the 
Netherlands
 after calling for "resistance" to the establishment of refugee centres to house migrants from 
Iraq
 and 
Syria
."
RHETORIC AGAINST GEERT WILDERS RATCHES UP
11 FEBRUARY 2016
[31]
"
Riot police have been used in a number of towns and villages to prevent angry protesters disrupting council meetings called to identify premises suitable for housing the refugee – some 200,000 of whom arrived in the country during 2015.
Mr Spekman said he was particularly concerned at the emergence of what he described as "militias", groups of people dressed in similar informal uniform, whose aim appeared to be to shout down anyone attempting to voice their support for the migrants in public."
RHETORIC AGAINST GEERT WILDERS RATCHES UP
11 FEBRUARY 2016
[32]
CARNEGIE EUROPE
"
He has also labeled the Dutch parliament, of which he is a member, a "
fake parliament
."
A DUTCH ELECTION IN A EUROPEAN
[33]
WILDERS PREDICTS A "REVOLT" IF PVV IS NOT
IN THE NEXT COALITION'
3 FEBRUARY 2016
[34]
MOSLIMS IN EUROPE, PACK YOUR BACKS AND RUN!"
GERALD CELENT SAYS ETHNIC CLEANSINGS WILL HAPPEN
TEXT
"
'Moslims in Europe, pack your bags and run. You are not safe anymore! Soon ethnic cleansing will begin, the displacement of millions of people which none would have thought possible years ago.'
This predicts American futurologist Gerald Celente in Dutch newspaper De Pers. According to Celente the hostility against Islam can no longer be put to a halt and will be boosted up by 'populist, new-right wing oriented governments'. These governments will be using double law standards: one for the indigenous people, and one for immigrants.
Celente is a wel known source in the United States who is quoted repeatedly by media such as The Economist, The New York Times and The Wall Street Journal. Celente predicted among other things the fall of the Berlin Wall and the Credit Crunch."
ENGLIS TRANSLATION OF ARTICLE BELOW
HP DE TIJD [PAPER]
EUROPE EXPELLS ITS MUSLIMS WITHIN SIX YEARS
HP DE TIJD
EUROPA VERDRIJFT ZIJN MOSLIMS BINNEN ZES JAAR
21 SEPTEMBER 2010